Natural Products
Research has shown that natural products can support overall health and wellness. Through the years my clients have often requested natural products to support their mental health and wellbeing. My research has led me to understand the link between oxidative stress and anxiety, depression, bipolar disorder, ADHD along with other related conditions.
What you need to know about Oxidative Stress
Your body constantly reacts with oxygen as you breathe and your cells produce energy. As a consequence of this activity, highly reactive molecules are produced within our cells known as free radicals and then oxidative stress occurs. When our protein-controlled anti-oxidant response doesn't keep up oxidative stress causes oxidative damage that has been implicated in the cause of many diseases and also has an impact on the body's aging process. Research shows there is a strong link between oxidative stress and numerous emotional and mental health conditions.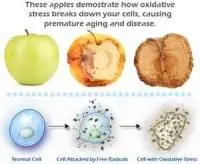 What can you do to reduce oxidative stress naturally?
Protandim NRF2 Synergizer is scientifically proven to reduce cellular oxidative stress by 40% in 30 days
You can order from the link below
www.Startfresh.lifevantage.com